Residents
W

e are blessed with a cornucopia of talent at the club, which is one of the reasons why it is such a joy to attend.To give some idea of the scope and versitility of the membership, below is a brief intro to some of our more regular contributors:
Marilyn Campbell: Marilyn has been collecting and singing songs of the traditional since her early days on the 70's folk club scenes of both her natiove Hull and Chichester. For many years on as half of the duo 'Marker' with Kerry Manning, she also added contemporary songs to her repetoire. Now a fine solo performer she is also the clubs' premier spoons-player and mega-brilliant Folk Club organiser.
Dave and Sue Garrard: Dave is a grand singer/guitarist with an extensive contemporary repertoire ranging from Dylan and the songs of the 60's folk revival, through country/Americana to c&w yodelling songs and laments for gnomes. Another prime member of the BBB and it's principal guitarist, a stalwart of the club and great fun. He also provides the accompaniment for Sue and her lovely choices of songs.
Anne Winter: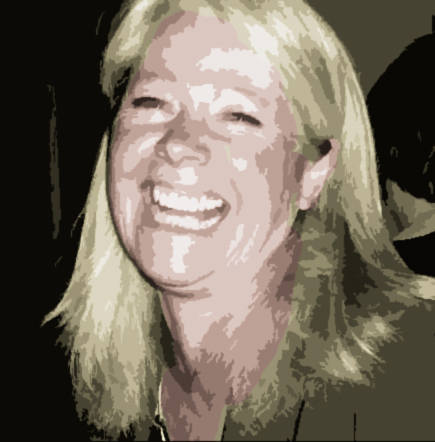 A lovely solo singer of predominantly traditional songs, Anne has recently returned to the folk scene and we now know what we've been missing. She has been heavily involved with the recent promotion of George Gardiner's song collection, and is also making a name for herself further afield in clubs and at festivals around the country. A great asset to the club, as she also MC's and acts as our roving ambassadress (?).
Patrick Hogston: A very good box player with a mass of tunes available at his fingertips, Patrick is a big part of the BBB and also plays in sessions around the area. He has now ventured out into solo singing and presents some fine chorus songs for the club to join in with (a thing they much like to do). Patrick is also in Victory Morris.
Carrie Hogston: in the BBB Carrie plays fiddle and now has also mastered the melodeon, and (because she also plays for Victory Morris) a very fine player she is, but her finest point is her solo songs, either self-penned, traditional or American, which just sound so good.
William Davies:
The younger generation of club members, William brings a very fresh sound to the club with along with songs he somehow gets away with in a folk club. From renditions of songs by Frank Turner and Passenger to Green Day and Rise Against it's always pot luck with what he may come out with next.
Alison West: And now for something completely different- our very own Ukelele Queen. As well as playing guitar and singing some really great songs (about the sinking of ships and the almost-entire works of John Otway), Alison has now mastered the Uke' and it brings a whole new sound to the club. She also MCs some great theme nights and, as a sideline, counts up all the money as Treasurer.
Lesley Pardoe: A great boon to the club, being not only a lovely lady, but a singer of some great songs, and also one of the most tuneful members of the Band.

Jim Glover: A rare, yet popular creature, the mighty-bearded Jim is most often found at illicit singing dens in sleazy pubs or folk clubs throughout the south of England. Known by many folkies but seldom seen often enough, this mighty singer leads some grand chorus sings and is great company. Also a member of Victory Morris (damaged goods division).
Chris Skinner: Often found in same areas as the above but has a much better plumage, Chris is a lovely singer of some really different songs. She's not Victory Morris, but she is one of their favourite performers!

Colin Turton: A fine tenor singer with a lovely collection of songs and a concertina! Colin has been one of us for many's the year, and you can hear even more of him on Fridays, because he is one of the mainstays of the City Folk Club.
Mave Hobbs: Mave has a cool collection of Music-Hall songs to entertain us with.
Barry Reah: A prolific songwriter of some powerful stuff, or, as he likes to call it "MPD" (more purile drivel)! Also a great MC for the more bizarre of our theme nights (Folkopoly and Strip the Folkie being two such memorable events).

Phil and Jane: A great duo, who perform some really great interpretations of modern and traditional songs, plus some excellent self-penned stuff. Check out their

new website

for more details of where-else you can hear these stars.

John Hostler: A welcome new face at the club, John went off to South Africa for a brief 30 years. Whilst there, apart from other things, he also was a pro drummer and singer with dance, and jazz, bands. He recently returned to the UK and took up the guitar. It is now our pleasure to listen to him blossom into a grand folk singer/guitarist.

Paul Damper & Angela O'Brien: 2 great performers who together, solo or with a variety of others, present a grand variety of songs. Paul's laid-back performance style belies a wonderful a lovely musical style. Angela not only is a brilliant promoter of the ubiquitous uke, but, as well as singing some really uplifting songs, also provides the eye-candy step-dancing during the BBB sessions.
Zak Van Der Vyver: A great anglo concertina player, with a wealth of fine tunes very much outside of the box.
George Wilson: George is very much a legend of the folk scene, known throughout the land for his fine voice, sensitive guitar accompaniment and wide sense of humour.
Sally Argent & Ronnie Williamson: The club equivalent of the Special Forces, these two club members scour the festivals around the country, inveigling suitable guests into their caravan and then kidnapping them for us.

When they are not acting as super-stewards and pressgang officers they offer up songs and stories for our singaround entertainment.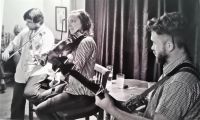 Emma & Meredith Littleton-Walker: are two new members of the club who, with their pals Jack and Michael, create great new sounds. It's fantastic to have so talented a group of youngsters joining the club and finding for themselves the pleasure of our folk music heritage. And such a fine collection of sounds - voice, violin, cello, guitar (and even banjo.(Even Kerry liked it!)).
Dan Davies: And now for something completely different. A poet, rhymer, wordsmith, idiot. take your pick, Dan's work fits the bill.
Andy Slade: A great singer of grand old songs, full of passion and action. Also a dab hand at guitar, melodeon and concertina and a very good Morris dancer (even if it is with it is with Broadwood Morris rather than Victory!)
Louise Slade: Her readings of select poems always enrich the evening, and she keeps Andy in check very well.
Lorna Shephard: Lorna plays giant recorder and keeps us in touch with our dance tradition by playing some great Playford dance tunes, and anything-else that takes her fancy. Nat, her other half, rescues "A" boards.
more info on other residents to come in the near future..............'